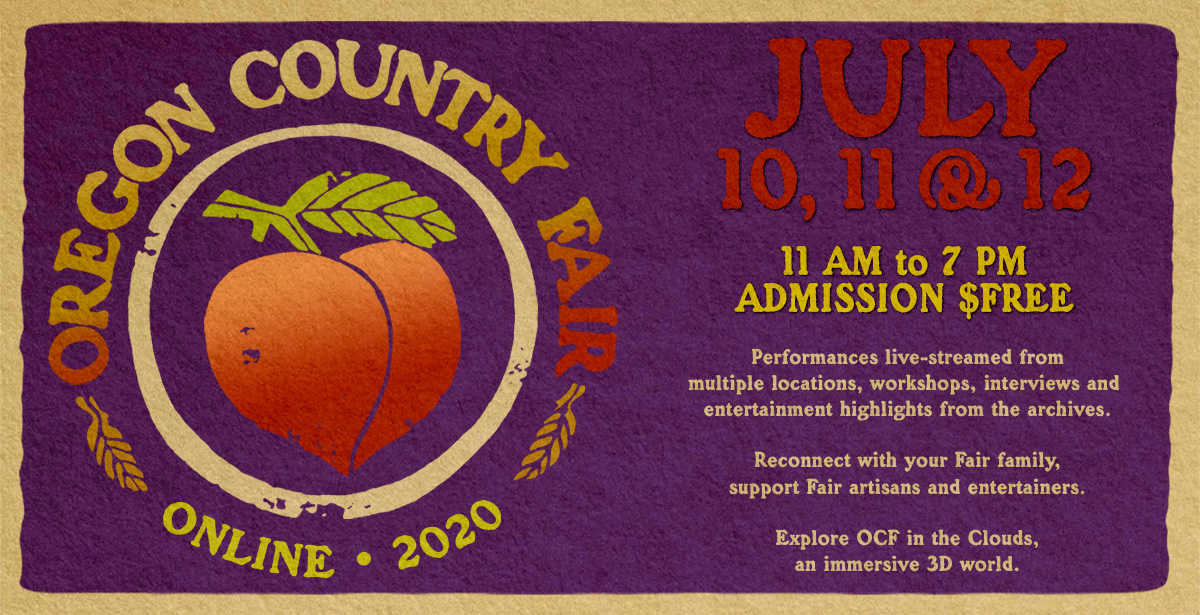 The Oregon Country Fair
~ Celebrating its 51st Anniversary ~
The Oregon Country Fair
~ Celebrating its 51st Anniversary ~
Event Information
🍑 First Ever Virtual Oregon Country Fair 🍑
The Oregon Country Fair has taken place every year since 1969, and in that time we've seen the world change in innumerable ways. We're heading into our usual event season in 2020 in a world that is profoundly different than the one we left last season. The challenges we're facing will prevent us from physically gathering for our usual celebration this year, but it will not stop us from doing what our community has come to expect: for the Fair to connect the community with events and experiences that nourish the spirit, explore living artfully and authentically on Earth, and transform culture in magical, joyous, and healthy ways. We know the Fair has powerful magic. It sparks conversation. It uplifts. It inspires. It brings us together.
We are excited to announce the first virtual Oregon Country Fair on July 10th, 11th, & 12th! This is something we have never done before, but like our normal event in July, volunteers, entertainers, artisans, and YOU will help make it incredible. Just like when we are together physically, there will be lots of different things to do and different ways to do them!
Volunteers are busy creating a myriad of ways to celebrate and engage. Our Cartography Crew has come up with a fantastic Peach Pit map that will let you contact artisans directly by visiting their booths, and The m8rix Team has created the interactive Fair in the Clouds 3D Experience: a 3D-virtual representation of the OCF, complete with stage acts, booths, and the ability to wander the Fair in the Clouds.
While we want to hold hands, we will instead hold space…for hope, for each other, and for this community which reminds us that even under the bleakest of circumstances there is beauty and light that shines through.
We will have more information coming soon, so be sure to check www.oregoncountryfair.org
Merch for The Fair That Wasn't There

🍑 Merch for The Fair That Wasn't There 🍑

The Oregon Country Fair is a philanthropic non-profit organization, and our usual July event is our primary source of revenue. Fundraising was the catalyst that began the Oregon Country Fair, it's been essential in developing our enduring success, and will provide opportunities that further our mission into the future.

We are happy to announce our newest fundraiser: merchandise for the 2020 Fair That Wasn't There! Find it at merch.oregoncountryfair.org/