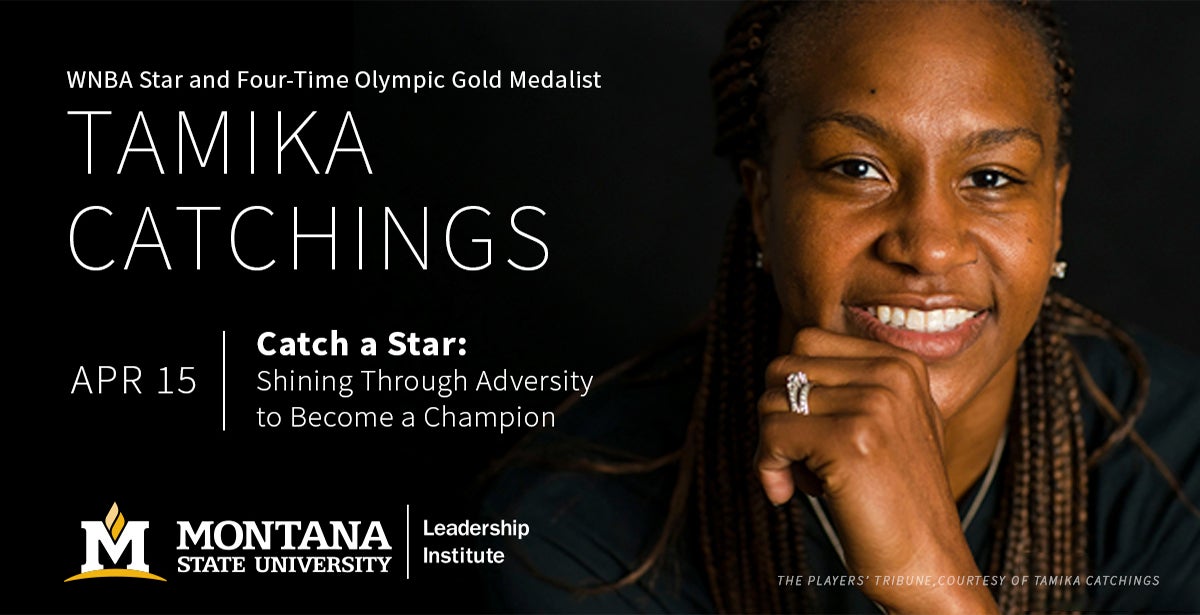 *CANCELLED* Tamika Catchings - Catch A Star
*CANCELLED* Tamika Catchings - Catch A Star
Event Information
The Tamika Catchings Lecture on April 15th has been cancelled. If you had previously ordered tickets online, your order will be refunded to your credit card within a few weeks. Please call the Bobcat Ticket Office at 406-994-2287 if you purchased your tickets at the box office.
Four-time Olympic gold medalist and ten-time WNBA All-Star Tamika Catchings will give a lecture titled "Catch A Star: Shining Through Adversity to Become a Champion" sharing her story of overcoming hearing loss, separation from family, high expectations and the pain of debilitating physical injuries. Catchings founded Catch the Stars, a nonprofit built to assist disadvantaged youth in following their dreams through fitness, literacy and youth development.
On the court, Catchings' legacy is cemented as one of the greatest women ever to play the game. She retired as the league's No. 2 scorer (7,380 points) and rebounder (3,316) of all-time, already its career leader in free throws (2,004) and steals (1,074). In postseason play, nobody appeared in as many WNBA Playoff games (68) as Catchings, or started as many (67). She retired as the WNBA postseason leader in points (1,141), rebounds (598), free throws (356), steals (152), double-doubles (27) and minutes played (2,310).
Throughout her 16 seasons playing for the Indiana Fever, Catchings demonstrated leadership skills and incredible prowess over the game of basketball. She was twice named the winner of the WNBA's Kim Perrot Sportsmanship Award and won the WNBA's Defensive Player of the Year award five times.