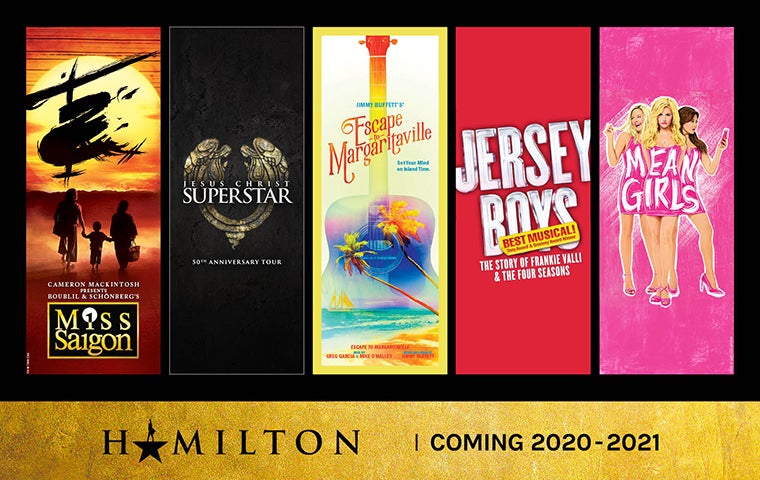 STCU Best of Broadway
STCU Best of Broadway
October

23

Wednesday

@ 7:00PM

TBA

First Interstate Center for the Arts - Spokane, WA
Event Information
STCU BEST OF BROADWAY
2019-2020 SEASON TICKETS
Including some of Broadway's most popular national tours, the new STCU Best of Broadway season includes a dynamic array of titles and on-stage experiences for Spokane audience to enjoy! Season tickets include five incredible productions, special perks and benefits, and discounted pricing!
THE BEST WAY TO GUARANTEE HAMILTON SEATS!
HAMILTON is coming to Spokane! Season ticket holders from the 2019-2020 season will have first access to HAMILTON tickets when renewing their season package for the 2020-2021 season.
STCU BEST OF BROADWAY SEASON PACKAGE PRICES
Premium: $382.00
Price Level 2: $367.00
Price Level 3: $340.00
Price Level 4: $250.00
Season Ticket Package 1: Thursday Evenings
Miss Saigon: Oct. 24, 2019 – 7:30PM
Jesus Christ Superstar: Nov. 21, 2019 - 7:30PM
Escape to Margaritaville: Jan. 23, 2020 – 7:30PM
Jersey Boys: Apr. 2, 2020 – 7:30PM
Mean Girls: Aug. 13, 2020 – 7:30PM
Season Ticket Package 2: Friday Evenings
Miss Saigon: Oct. 25, 2019 – 7:30PM
Jesus Christ Superstar: Nov. 22, 2019 – 7:30PM
Escape to Margaritaville: Jan. 24, 2020 – 7:30PM
Jersey Boys: Apr. 3, 2020 – 7:30PM
Mean Girls: Aug. 14, 2020 – 7:30PM
Season Ticket Package 3: Saturday Evenings
Miss Saigon: Oct. 26, 2019 – 7:30PM
Jesus Christ Superstar: Nov. 23, 2019 – 7:30PM
Escape to Margaritaville: Jan. 25, 2020 - 7:30PM
Jersey Boys: Apr. 4, 2020 – 7:30PM
Mean Girls: Aug. 15, 2020 – 7:30PM
Season Ticket Package 4: Sunday Matinee
Miss Saigon: Oct. 27, 2019 – 1:00PM
Jesus Christ Superstar: Nov. 24, 2019 – 1:00PM
Escape to Margaritaville: Jan. 26, 2020 – 1:00PM
Jersey Boys: Apr. 5, 2020 – 1:00PM
Mean Girls: Aug. 16, 2020 – 1:00PM
Season Ticket Package 5: Sunday Evenings
Miss Saigon: Oct. 27, 2019 – 6:30PM
Jesus Christ Superstar: Nov. 24, 2019 – 6:00PM*
Escape to Margaritaville: Jan. 26, 2020 – 6:30PM
Jersey Boys: Apr. 5, 2020 – 6:30PM
Mean Girls: Aug. 16, 2020 – 6:30PM
*Note earlier performance time