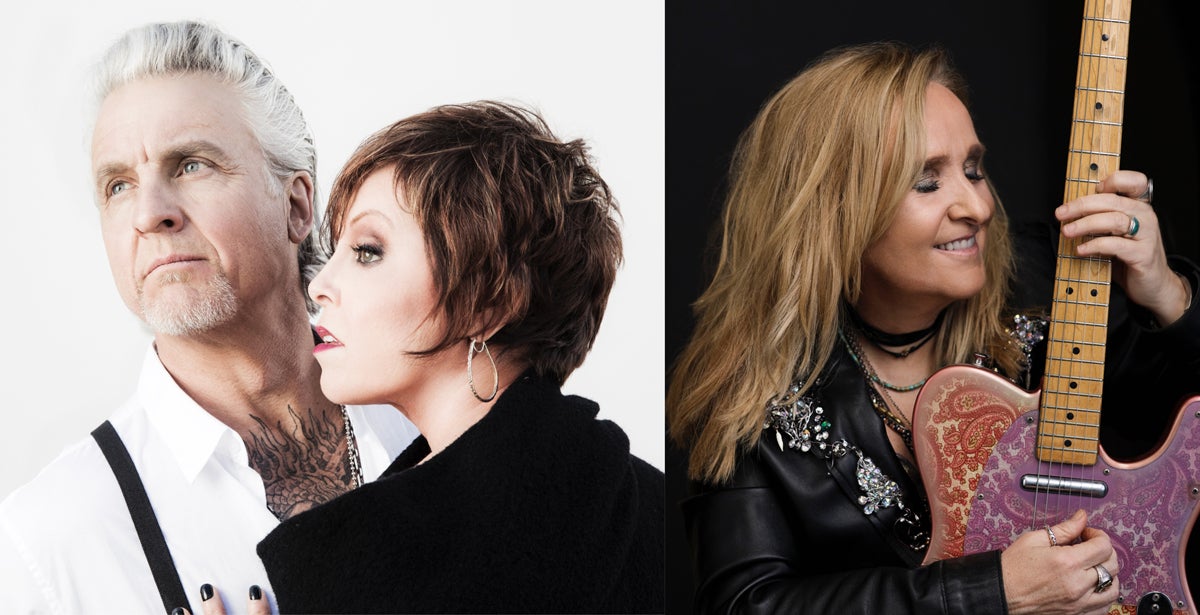 Pat Benatar & Neil Giraldo and Melissa Etheridge
Pat Benatar & Neil Giraldo and Melissa Etheridge
Event Information
Pat Benatar and Neil Giraldo have been making music together for four decades. Pat and Neil met each other in 1979 for the first time in a small rehearsal room at SIR Studios in New York City. The rest as they say "is history." Pat Benatar's staggering vocals and take-no-prisoners attitude, along with Neil Giraldo's trailblazing artistry as a guitarist, producer, and songwriter forged the undeniable chemistry and unique sound that created some of rocks most memorable hits including: "We Belong," "Invincible," "Love Is A Battlefield," "Promises In The Dark," "We Live For Love." Together they have created two multi-platinum, five platinum and three gold albums, as well as nineteen Top 40 hits. They have sold over thirty million records worldwide and have won an unprecedented four consecutive Grammy awards. In 1982, Benatar and Giraldo were married and have two grown daughters. In 2018, they joyfully became grandparents for the first time. Their musical career has endured for forty years and this summer for their 40th Anniversary, the duo will embark on a multi-city tour, undoubtedly thrilling their fans everywhere.
Since the release of her unforgettable self-titled 1988 debut, Melissa Etheridge's incredible career to date includes sales of over 25 million albums, 5 platinum and 3 multi-platinum records, 15 GRAMMY Award nominations and 2 wins, a Star on the Hollywood Walk of Fame, and an Academy Award for "I Need to Wake Up" from the climate change documentary An Inconvenient Truth. Her 1993 album Yes I Am featured the massive hits, "I'm the Only One" and "Come to My Window." Her last release, MEmphis Rock & Soul, debuted at #1 on Billboard's Blues Chart. Melissa has selflessly dedicated herself as an activist for human rights, LGBTQ issues, breast cancer awareness and alternative medical approaches. Melissa's new album, The Medicine Show, is out April 12.
VIP Hospitality Tent Access

Purchase VIP Hospitality Tent Access

Artist will NOT make an appearance

VIP TENT ACCESS ONLY for Blake Shelton on Sunday, July 21, 2019

* * Event Ticket NOT included! * *

VIP TENT AMENITIES:

Private No Host Full Bar
Private Executive Restrooms
Private Appetizers and Bar Snacks
Air Conditioned
Limited Availability - only 250 VIP Tent Access Passes Sold
VIP TENT IS LOCATED INSIDE CONCERT VENUE SO A CONCERT TICKET IS REQUIRED TO ENTER VENUE!!
MUST SHOW PHOTO ID WITH VIP TENT TICKET TO ENTER
Note: Evenings entertainment will not have a live feed in the tent
Tickets are only issued as Print at Home!