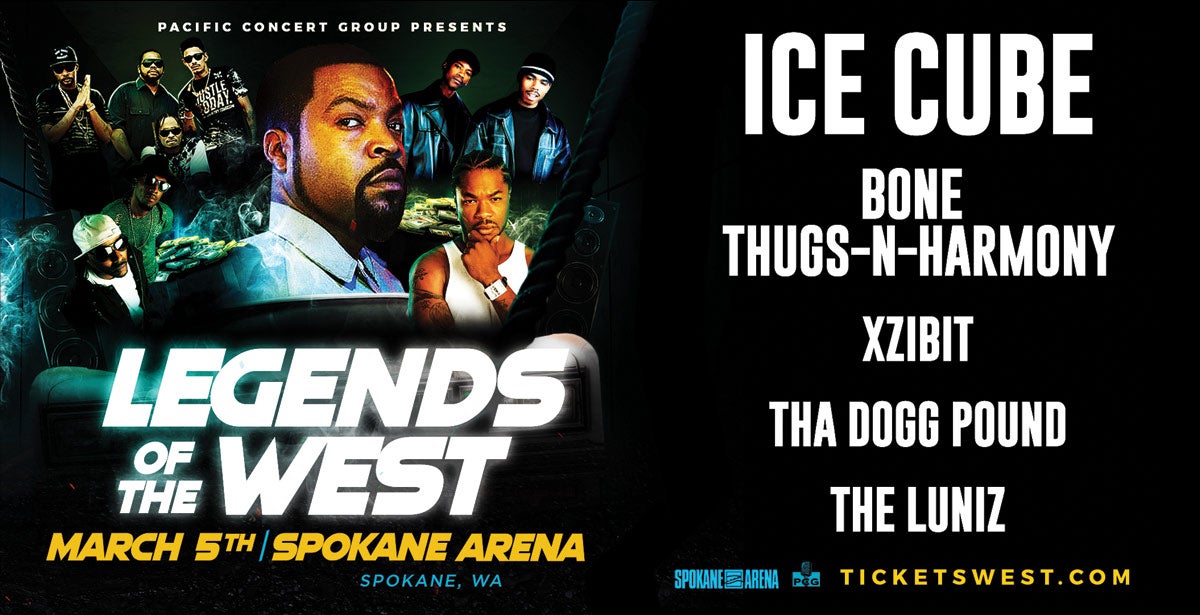 Legends of the West starring ICE CUBE with special guests Bone Thugs-n Harmony, Xzibit, Tha Dogg Pound, (featuring Kurupt) and the Luniz
Legends of the West starring ICE CUBE with special guests Bone Thugs-n Harmony, Xzibit, Tha Dogg Pound, (featuring Kurupt) and the Luniz
Event Information
The Pacific Concert Group is proud to present The LEGENDS of THE WEST Tour

starring the one and only ICE CUBE

The Pacific Concert Group is giving Throwback music fans a New Year gift by announcing today that rap pioneer and legendary lyricist and movie superstar ICE CUBE will headline the Legends of The West tour on Sunday March 5th at the Spokane Arena . Additional performances from special guests Bone Thugs N Harmony, Xzibit, Tha Dogg Pound featuring Kurupt and The Luniz will round out an electrifying evening of old school West Coast hip hop.


With over 10 million albums sold and chart-topping hits like 'IT WAS A GOOD DAY,' 'CHECK YO SELF,' and in N.W.A.'s 'STRAIGHT OUTTA COMPTON' and 'F THA POLICE,' Ice Cube has proven himself an acclaimed musician and a member of the Rock & Roll Hall of Fame.


Alan Beck, President of the Pacific Concert Group said "We promised the Old School Hip Hop fans of Spokane and the community that we would bring a world-class Throwback event, showcasing high profile superstar talent and providing the fans and listeners with big name artist experiences. The Legends of the West tour delivers on that promise. We're thrilled to bring this concert to the Spokane Arena!!

Tickets for the LEGENDS OF THE WEST presented by Pacific Concert Group, go on sale this Thursday Jan 12th at 10am at www.ticketswest.com or the Spokane Arena box office.
Don't miss out on this amazing throwback concert as it is expected to sell out. For more info go to pacificconcertgroup.com or www.spokanearena.com