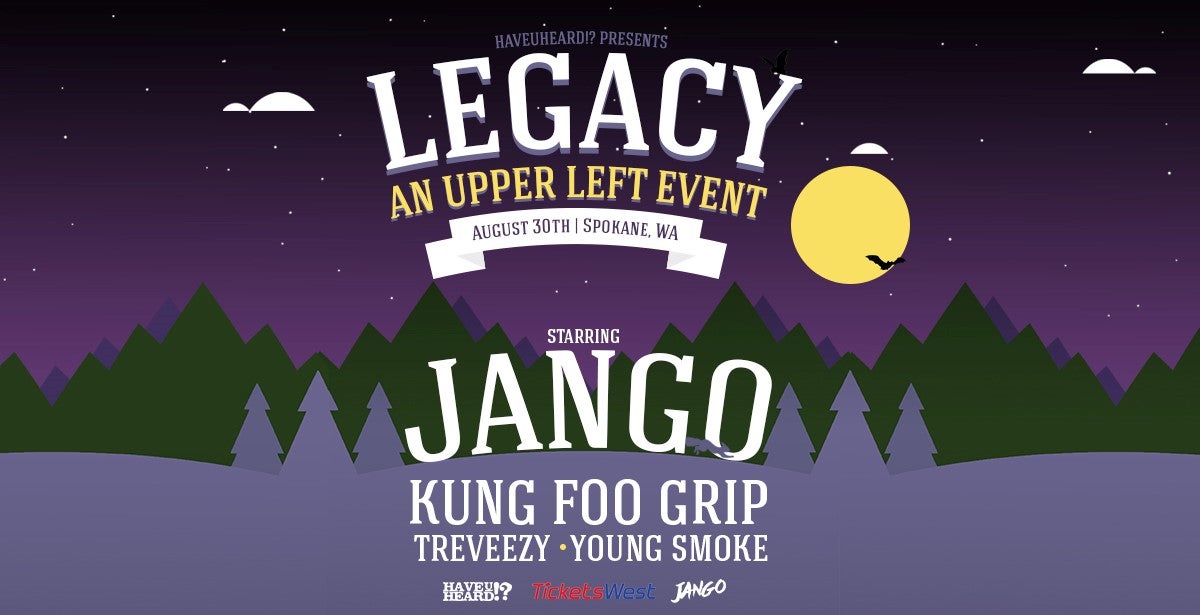 Jango with Kung Foo Grip
Jango with Kung Foo Grip
Event Information
Jango with Kung Foo Grip, Treveezy and Young Smoke will be live at the "WCB". The doors open at 8:00pm!
Jango
Jango is a Pacific Northwest emerging Hip-Hop artist born in Connecticut and raised through life experiences. Since the release of his project 'Alone By Choice' Jango has been gaining a lot of attention around the region. He has been featured in many press outlets such as The Spokesman Review, College News, Respect My Region Blog, and The Inlander.
Jango's sound is a distinct blend of cleverly arranged bars, and smooth sung hooks. He has an old school influence that he utilizes with a modern original style to produce a well balanced sound. Being an Independent artist in a region that's not well known for Hip Hop, Jango brings innovative concepts and a unique social approach that transcends the typical artist.
Kung Foo Grip
A hip-hop, trap rap & punk cocktail (shaken not stirred). Eff Is H & Greg Scott are the evolution of what you they thought was dead in today's music. Classic Boom Bap has a 'new look', electricity has a 'new shape' & everyone would agree KFG live shows never disappoint. The Northwest is known for the great outdoors, here's that breath of fresh air... Breath in. The latest album "2.K.F.G." (2018) is being described as one of the best Seattle Hip-Hop releases in years.
Treveezy
Treveezy is an artist coming from the Pacific Northwest with a unique style. Being a musician for over a decade, Treveezy creates music in a variety of ways yet delivers it with his own style. Treveezy brings a performance with an unforgettable energy that consistently delivers a fun time. Treveezy has opened up for artists such as: Dizzy wright, Problem, kirko bangz, and various others.
Young Smoke
Young, talented, and handsome hardly sums it up. The Pot Head Prince is known for keeping the vibes high. His 2016 music video "Me, My People, My City" spread like fire in the region, as this fashion and cannabis entrepreneur quickly became a triple threat.