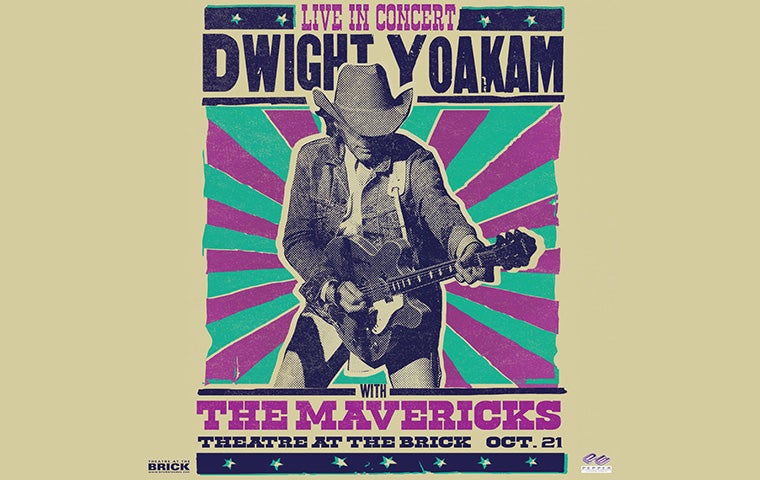 Dwight Yoakam
Dwight Yoakam
October

21

Saturday

@ 7:00PM

7:00 PM

Brick Breeden Fieldhouse Theatre - Bozeman, MT
Additional Ticket Information

About Dwight Yoakam
Dwight Yoakam has sold more than 25 million albums worldwide, and he is a 21-time nominated, multiple GRAMMY Award winner. He has 12 gold albums and 9 platinum or multi-platinum albums, with five of those albums topping Billboard's Country Albums chart and another 14 landing in the Top 10. Nearly 40 of Yoakam's singles have charted on Billboard, with 14 peaking in the Top 10. Yoakam is a recipient of the Artist of the Year award from the Americana Music Association, and BMI Country Music's President's Award, the most prestigious award offered by the organizations. He was also inducted into the Nashville Songwriters Hall of Fame in the Songwriter/ Artist category at the 49th anniversary Gala in 2019 in Nashville, TN. Yoakam's self-curated SiriusXM channel, titled Dwight Yoakam and The Bakersfield Beat 'Where Country Went Mod' launched in April of 2018. The channel celebrates the Bakersfield sound and those whom it has inspired. Guests have boasted the likes of Post Malone, Lukas Nelson, Beck, Chris Hillman, Jakob Dylan, Mike Nesmith and Mickey Dolans, Dave Alvin, and Jackie DeShannon, among others. In 2016, Yoakam released his bluegrass album Swimmin' Pools, Movie Stars... on Sugar Hill Records. Featuring a band of bluegrass luminaries, this album boasts a collection of reinterpreted favorites from his catalogue, as well as a cover of Prince's "Purple Rain". Produced by nine-time GRAMMY winner Gary Paczosa (Alison Krauss, Dolly Parton), Jon Randall (songwriter of "Whiskey Lullaby"), and Yoakam himself, and mixed by Chris Lord-Alge, this album reflects the love for bluegrass music that Yoakam developed at an early age in Kentucky and that has inspired him for many years thereafter. In 2018, Yoakam released two songs, "Pretty Horses" and "Then Came Monday" (the latter written with Chris Stapleton). In addition to his musical career, Yoakam is a formidable film and television actor who has appeared in over 40 feature films, including Sling Blade and Panic Room. In 2016, he recurred in David E. Kelley's Amazon series Goliath. Recently, he appeared in director Steven Soderbergh's film Logan Lucky with Channing Tatum and Daniel Craig. Yoakam is capable of seamlessly melting into his roles and impressively standing toe-to-toe with some of the world's top thespians over the course of his storied and successful acting career, including Jodie Foster, Tommy Lee Jones, Jared Leto, Forest Whitaker and Matthew McConaughey.

About The Mavericks
Fusing traditional country with a rich variety of rock, pop, and Latin influences, The Mavericks became one of the most critically acclaimed and commercially successful groups of the early '90s. While they initially struggled to make the most of their talent and influences on their first two albums, they hit their stride with 1994's What a Crying Shame, a critical and commercial breakthrough that was a grand showcase for the rich, emotive vocals of Raul Malo and the band's eclectic but accessible approach. The album spawned four singles that landed in the country Top 40 and earned them the freedom to expand their sound on 1995's Music for All Occasions, another successful on radio and with fans. They edged away form country into a more distinctive fusion of Latin and pop flavors on the 1998's Trampoline, and while it wasn't as commercially successful in the United States as their previous two long-players, it was a major success in the U.K., and earned them a large fan base overseas. The group's run of hits faded in the 21st century, and they spent most of the 2000s on hiatus, yet they still held on to a loyal fan base who embrace the group's enthusiastic eclecticism. Releases like In Time (2013) and Mono (2015) eased back on the country side of their personality in favor of Latin and pop accents, but they still bore the trademarks of Malo's vocals and the group's expressive, creatively restless approach.