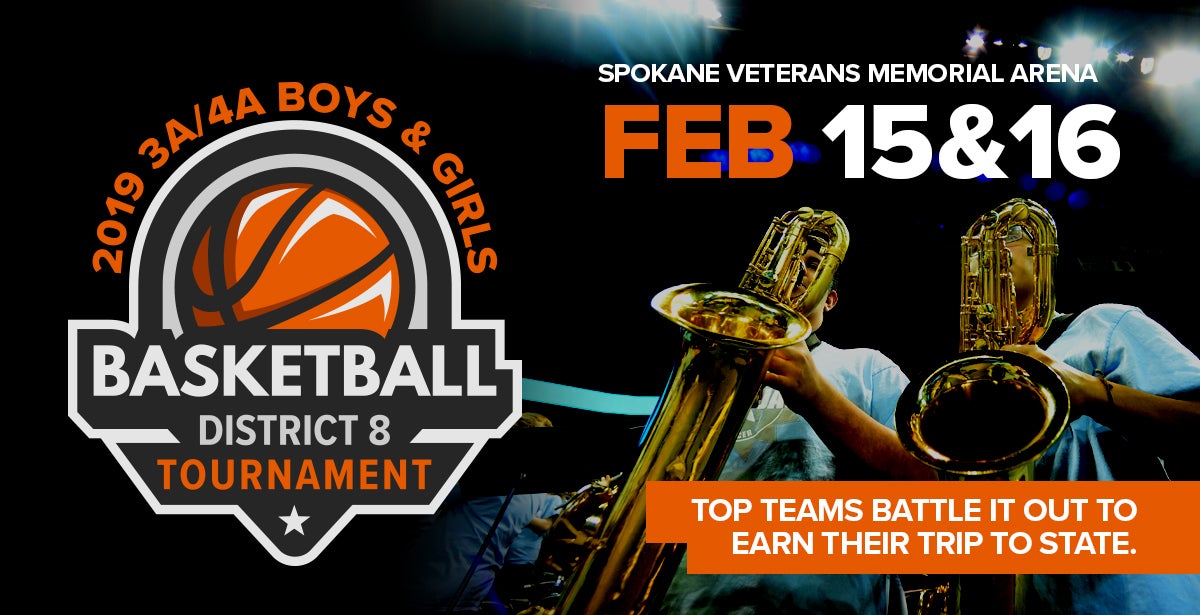 WIAA District 8 Basketball Tournament
WIAA District 8 Basketball Tournament
Event Information
2019 3A/4A Boys & Girls District 8 Tournament
Presented by Kalispel Tribe of Indians and Northern Quest Resort & Casino
February 15 & 16
Spokane Veterans Memorial Arena
Last year's event was phenomenal – this year will be even better. Get ready to watch some of Eastern Washington's best high school basketball teams battle it out for their trip to the State. Top teams from District 8 composed of the Greater Spokane League (GSL) as well as Mid Columbia Conference (MCC) will have the opportunity to play under the bright lights of the Spokane Veterans Memorial Arena—giving their fans one more chance to cheer them on.
Single Day Ticket Prices: $8 Student/Senior, $10 Adults
Tickets also available at the box office day of event.
Standard event parking prices apply
Brackets with qualifying teams will be posted online starting February 1st. Go online for complete details or to buy tickets online. (link to: http://www.spokanearena.com/event.php?eventID=1045)
SCHEDULE 2019

FRIDAY, FEBRUARY 15

3PM: 3A GIRLS ELIMINATION GAME, WINNER TO 3PM GAME SATURDAY
4:30PM: 3A BOYS ELIMINATION GAME, WINNER TO 4:30PM GAME SATURDAY
6PM: 3A GIRLS CHAMPIONSHIP GAME, LOSER TO 3PM GAME SATURDAY
7:30PM: 3A BOYS CHAMPIONSHIP GAME, LOSER TO 4:30PM GAME SATURDAY

SATURDAY, FEBRUARY 16

12PM: 4A GIRLS STATE QUALIFIER
1:30PM: 4A BOYS STATE QUALIFIER
3:00PM: 3A GIRLS STATE QUALIFIER
4:30PM: 3A BOYS STATE QUALIFIER
6PM: 4A GIRLS CHAMPIONSHIP GAME
7:30PM: 4A BOYS CHAMPIONSHIP GAME