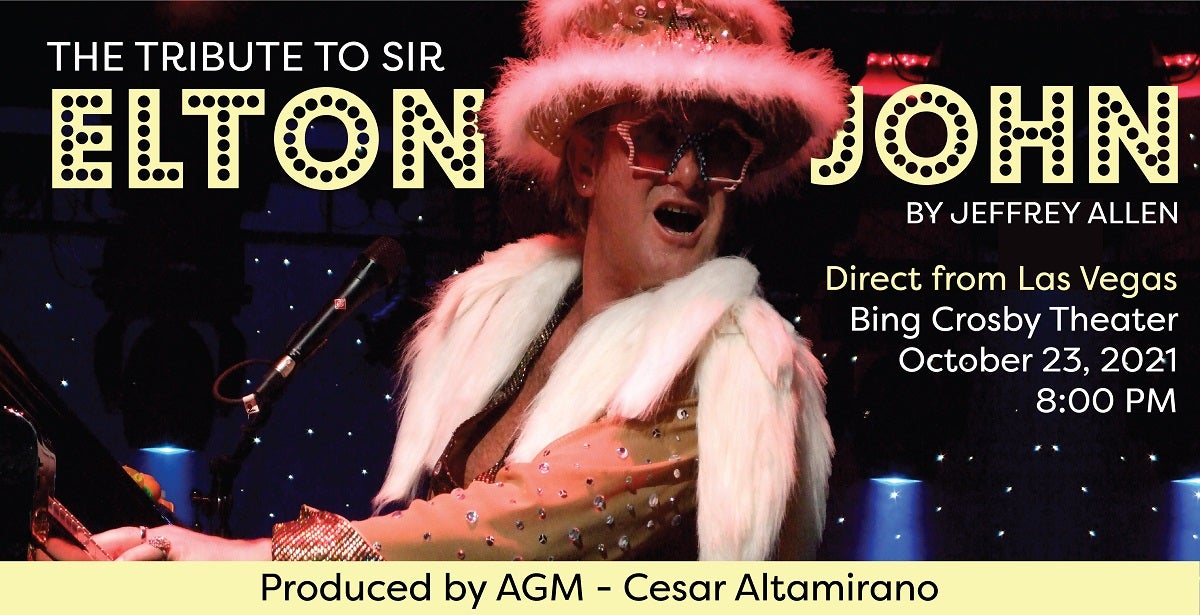 Tribute to Sir Elton John by Jeffrey Allen
Produced by: AGM - Cesar Altamirano
Tribute to Sir Elton John by Jeffrey Allen
Produced by: AGM - Cesar Altamirano
Event Information
Direct from Las Vegas, Jeffrey Allen, best Worldwide Tribute Show to "Sir Elton John" this 23rd of October 2021 @ Bing Crosby Theater in Spokane, Washington.
"The Tribute to Sir Elton John !" is a night of hit songs, energetic performances, costumes, and true Rock N Roll at its Finest! Sir Elton John tribute artist Jeffrey Allen creates the ultimate show, capturing the artist in his high-energy Rock N Roll performance.
Concerts have been highly successful with all involved raving about Jeffrey Allen's intensity on stage. Inevitably, his talent and experience brought him to Las Vegas where Jeffrey performed as "Sir Elton John" with the Longest running Impersonator Show.
Just like the original tour, his show as "Sir Elton's" captivating entertainment prowess, piano skills and costumes make this show a must to see.

Produce by: AGM- Cesar Altamirano