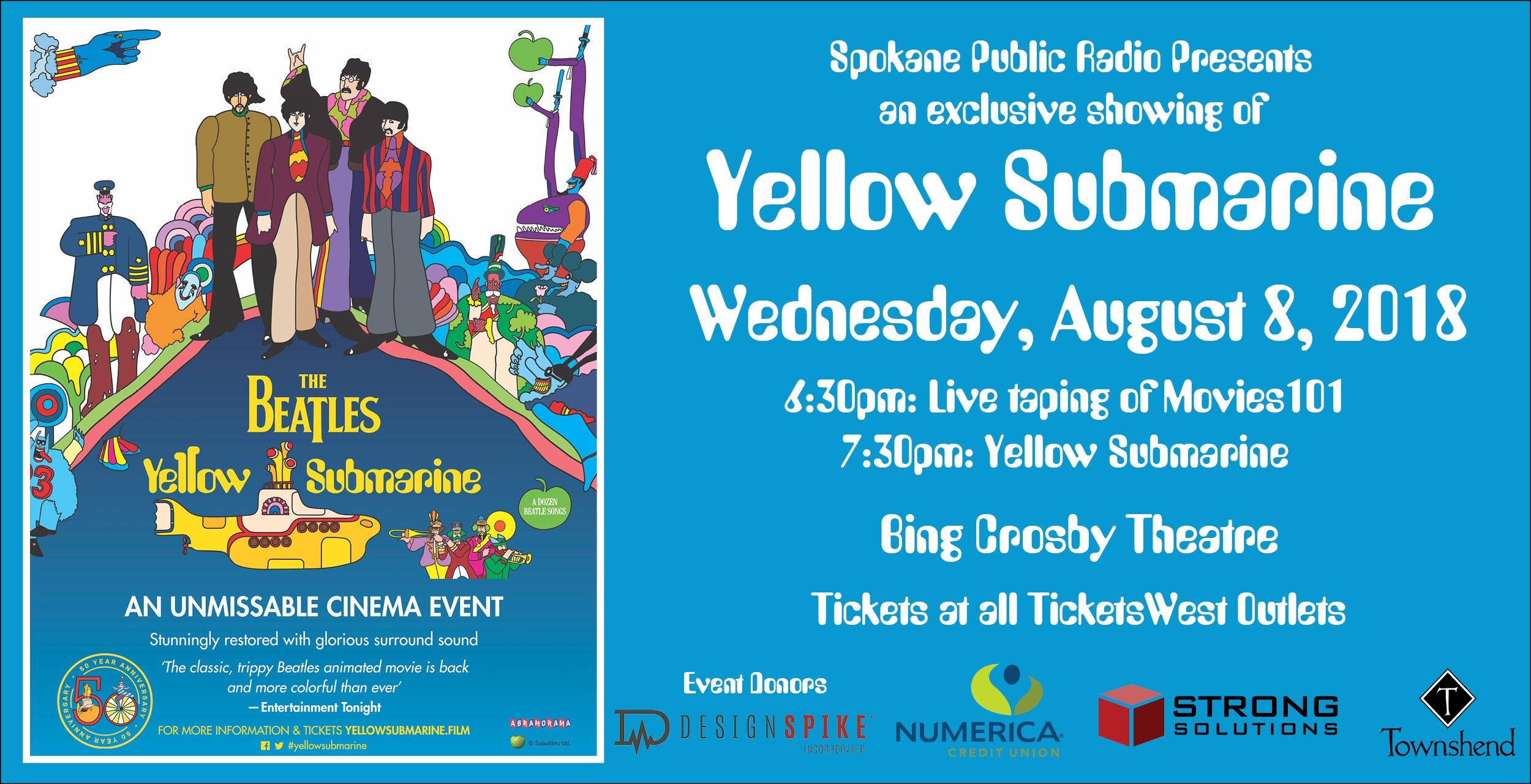 SPR presents The Beatles Yellow Submarine
SPR presents The Beatles Yellow Submarine
Event Information
Spokane Public Radio presents a special one-night-only showing of the visually stunning Beatles' film Yellow Submarine August 8, 6:30 p.m. at the Bing Crosby Theater. Abramorama, Apple Corps Ltd. and UMG have teamed up to give Beatles fans of all ages the opportunity to come together and share in this celebration of the film's 50th anniversary. Spokane Public Radio has exclusive permission for this big-screen showing.
The evening begins with a live taping of Movies 101 at 6:30 p.m. with hosts Dan Webster, Mary Pat Treuthart and Nathan Weinbender. They will discuss the film's influence and innovation along with 60s culture, animation and, of course The Beatles phenomenon. 4000 Holes will also display an amazing collection of Yellow Submarine and other Beatles' memorabilia in the Bing lobby.
Yellow Submarine was restored in 4K digital resolution by Paul Rutan Jr. and his team of specialists at Triage Motion Picture Services and Eque Inc. The film's songs and score were remixed in 5.1 stereo surround sound at UMG's Abbey Road Studios by music mix engineer Peter Cobbin. Due to the delicate nature of the hand-drawn original artwork, no automated software was used in the digital clean-up of the film's restored photochemical elements. This was all done by hand, frame by frame.
The film Yellow Submarine is based upon a song by John Lennon and Paul McCartney, is a fantastic tale brimming with peace, love, and hope, propelled by Beatles songs including "Eleanor Rigby," "When I'm Sixty-Four," "Lucy in the Sky With Diamonds," "All You Need Is Love," and "It's All Too Much." When the film debuted in 1968, it was instantly recognized as a landmark achievement, revolutionizing a genre by integrating the freestyle approach of the era with innovative animation techniques. More details at spokanepublicradio.org.