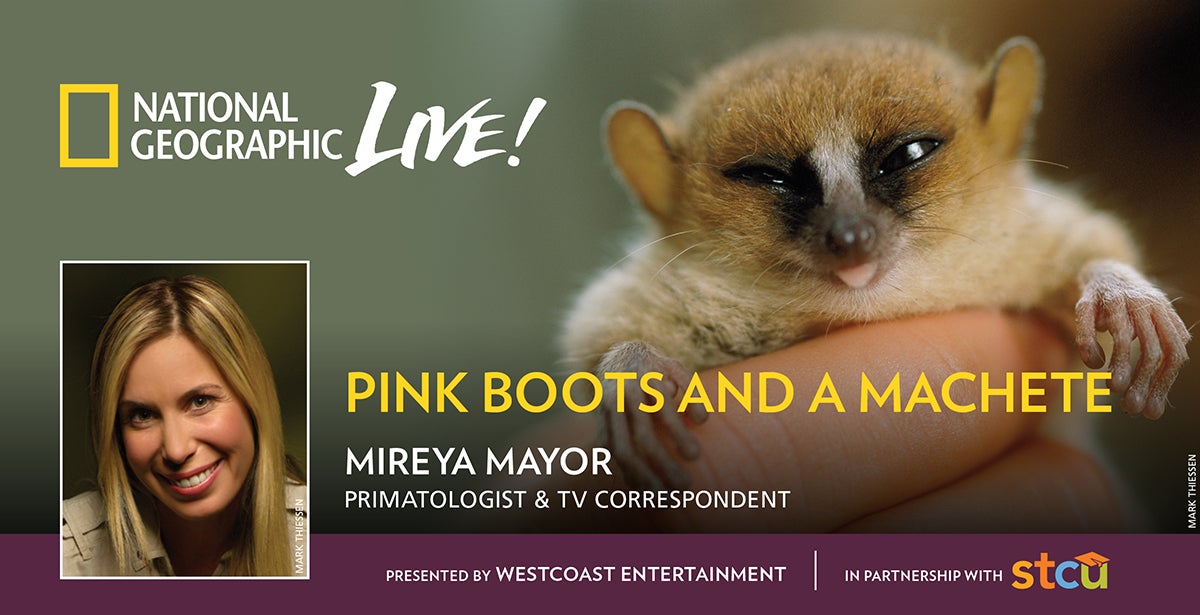 National Geographic Live: Pink Boots and a Machete
National Geographic Live: Pink Boots and a Machete
Event Information
A former NFL cheerleader and daughter of Cuban immigrants who grew up in Miami, Mireya
Mayor followed her unlikely dreams. She became a respected primatologist, audacious explorer, and Emmy Award-nominated wildlife correspondent for the National Geographic Channel. Mayor's adventures have taken her to some of the most remote places on Earth, armed with little more than a backpack, notebooks, and hiking boots. She's survived poisonous insect bites, been charged by gorillas and chased by elephants, but keeps going back for more.
In 2000, while on assignment in Madagascar, Mayor discovered a rare new species of mouse lemur, then believed to be the world's smallest primate. Her discovery inspired the prime minister of Madagascar to establish a national park to help protect the new species, conserving the 10 percent that remains of the African island nation's once vast forest.
Mayor has hosted several wildlife shows, including her most recent Nat Geo WILD series, Wild Nights with Mireya Mayor. Mayor has been hailed as a "female Indiana Jones" and an inspiration to young women interested in science and exploration. She'll share stories, images, and film clips of her adventures, offering a behind-the-scenes look at the hardships and danger of life in the field along with the moments of discovery that make it all worthwhile.
Age Recommendation

The event is family friendly.

Performance Length

The run time is approximately 1 hour and 30 minutes.