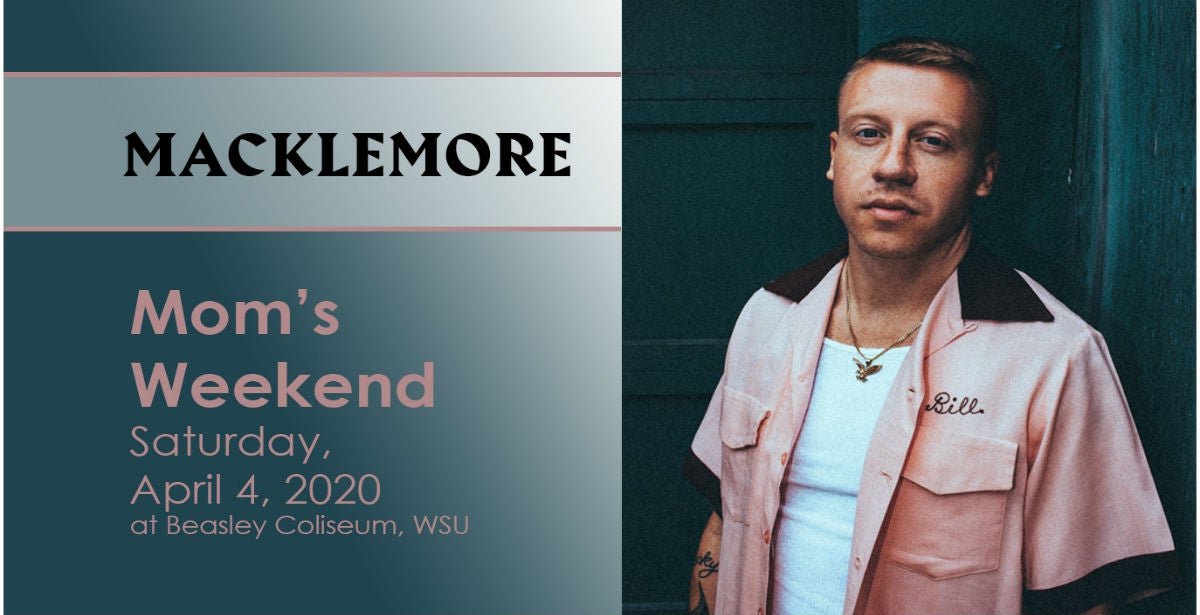 *Canceled* Mom's and Family Weekend - Macklemore
*Canceled* Mom's and Family Weekend - Macklemore
Event Information
Due to the many COVID restrictions continuing in the state of Washington, Beasley Coliseum and Washington State University feel it is best for all concerned to cancel the Macklemore concert currently scheduled for April 10, 2021. This concert was originally scheduled for the Family Weekend on April 4, 2020, it was postponed to October 9, 2020 and postponed again to April 10, 2021, all because of the uncertainty of the COVID virus.
Tickets will be refunded beginning January 4, 2021
If you bought your tickets online or by phone through TicketsWest, they will automatically be refunded to the credit card on file of the original purchaser.

If you purchased your tickets through a third-party company (i.e. Stubhub) or others, you will need to get your refund through them.

If you purchased your tickets at Beasley Coliseum or a TicketsWest outlet with cash, check or credit card, you will need to send your tickets to:
TicketsWest
Attn: Refunds
720 W. Mallon Ave
Spokane, WA 99201
(Please include all of your contact information: Name, Mailing Address, Email, Phone)
Most refunds will deposit 7-10 business days after the refund is processed.
We apologize for the disappointment and inconvenience this has caused and appreciate your patience through these unprecedented times. If you have additional questions, please contact us here: https://www.ticketswest.com/customer-service