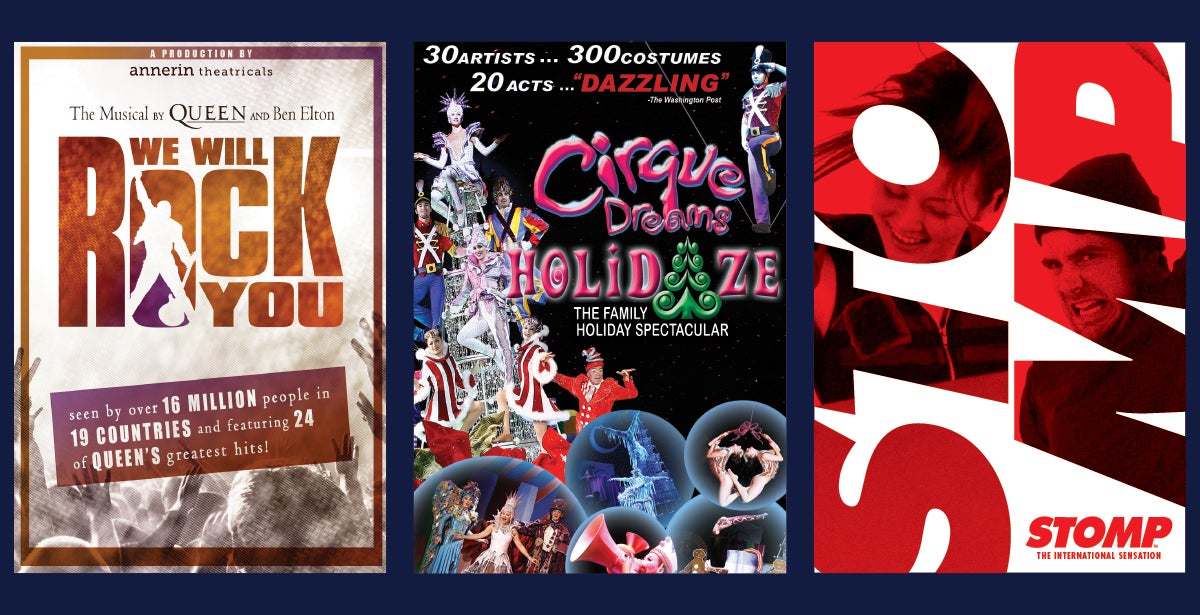 Broadway in Bozeman
Broadway in Bozeman
Event Information
WE WILL ROCK YOU is a quirky, eccentric and heartfelt story of outsiders. It is also a creative cautionary tale for the cyberage. With the Oscar - winning film, Bohemian Rhapsody, the music of Queen is more popular than ever. WE WILL ROCK YOU follows two revolutionaries, Galileo and Scaramouche, on a quest to save rock n' roll in a post - apocalyptic world where there are no musical instruments and rock n' roll has died. Galileo and Scaramouche will join a small group of societal outcasts, the Bohemians, as they fight to take back the iPlanet from the all - powerful Globalsoft, led by the Killer Queen. They will fight for freedom, individuality and the rebirth of rock n roll. Since 2002 over 16 million theatregoers in 19 countries have been thrilled by this awe-inspiring production which is based on the songs of Queen with a book by Ben Elton (The Young Ones, Blackadder, Popcorn). Elton fashioned this futuristic story around more than 24 of Queen's biggest hit songs including: We Are the Champions, Radio Ga Ga, I Want To Break Free, Somebody To Love, Killer Queen, Don't Stop Me Now, Under Pressure, Bohemian Rhapsody, Another One Bites The Dust and, of course, We Will Rock You. WE WILL ROCK YOU reflects the scale and spectacle that marked Queen's live performances and earned the band its pinnacle position in rock history. With Queen's Brian May and Roger Taylor as music supervisors and "a band without parallel in the theatre" behind the cast, the audience can expect WE WILL ROCK YOU to rock as fiercely as the best of Queen's concerts.
CIRQUE DREAMS lights up with this holiday season with its critically acclaimed holiday stage extravaganza… Cirque Dreams Holidaze…a new cirque show...Broadway musical... and family Christmas spectacular all in one! Hailed by The New York Daily News as a "delicious confection of charm, sparkle and talent by the sleighload & so full of energy it could end our dependence on oil!" Be amazed by this holiday spectacle with over 300 costumes, 20 acts and 30 artists from every corner of the globe. Many of these acts have been featured on America's Got Talent and similar TV shows in other countries making Cirque Dreams Holidaze the greatest variety show on the planet! Witness snowmen, penguins, angels, reindeer, toy soldiers, gingerbread men, ornaments and of course Santa; with soaring acrobatics, gravity defying feats, elaborate production numbers, imaginative costumes, illusions and more. The show also celebrates the most wonderful time of the year with singers, original music and seasonal favorites all performed in a winter wonderland of amazement.
STOMP is explosive, inventive, provocative, witty, and utterly unique—an unforgettable experience for audiences of all ages. The international percussion sensation has garnered armfuls of awards and rave reviews and has appeared on numerous national television shows. The eightmember troupe uses everything but conventional percussion instruments – matchboxes, wooden poles, brooms, garbage cans, Zippo lighters, hubcaps – to fill the stage with magnificent rhythms. Year after year, audiences worldwide keep coming back for more of this pulse-pounding electrifying show. As the Boston Globe says, "If you haven't seen STOMP, GO! If you have seen it, take someone and share the pleasure!" STOMP. See what all the noise is about.