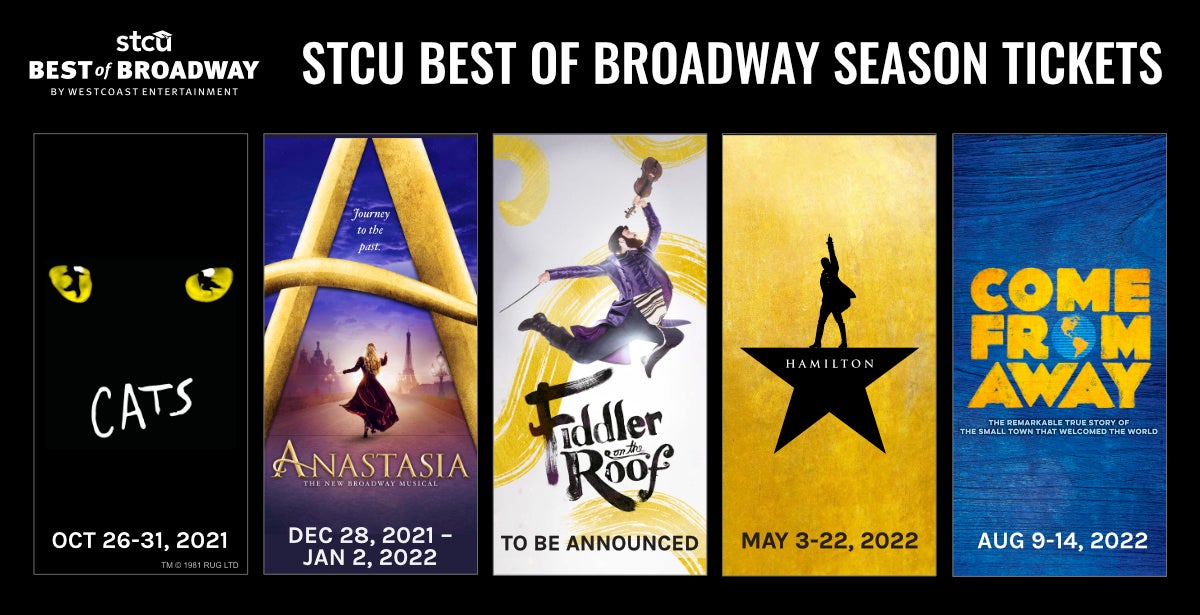 STCU Best of Broadway
STCU Best of Broadway
October

26

Tuesday

@ 7:30PM

7:30 PM

First Interstate Center for the Arts - Spokane, WA
Event Information
Uplifting, entertaining, and inspiring – every show in the STCU Best of Broadway season brings all the excitement of Broadway to the Inland Northwest. With thrilling stories, incredible music, spectacular visuals, and powerful performances, each show will be an experience to remember for years to come.
CATS: Rediscover Andrew Lloyd Webber's iconic musical, reimagined for a new generation.
ANASTASIA: See the beloved romantic adventure come to life on stage.
FIDDLER ON THE ROOF: Celebrate tradition in a fresh new production.
HAMILTON: Experience the story of America then, told by America now.
COME FROM AWAY: Be inspired by a heartwarming true story.
STCU BEST OF BROADWAY SEASON PACKAGE PRICES
Premium: $438.00
Price Level 2: $393.00
Price Level 3: $355.00
Price Level 4: $263.00
PACKAGE OPTIONS
New - Wednesday Evenings at 7:30PM (Best Availability)
Thursday Evenings at 7:30PM
Friday Evenings at 7:30PM
Sold Out - Saturday Evenings at 7:30PM
Sold Out - Sunday Matinees at 1:00PM
Sunday Evenings at 6:30PM