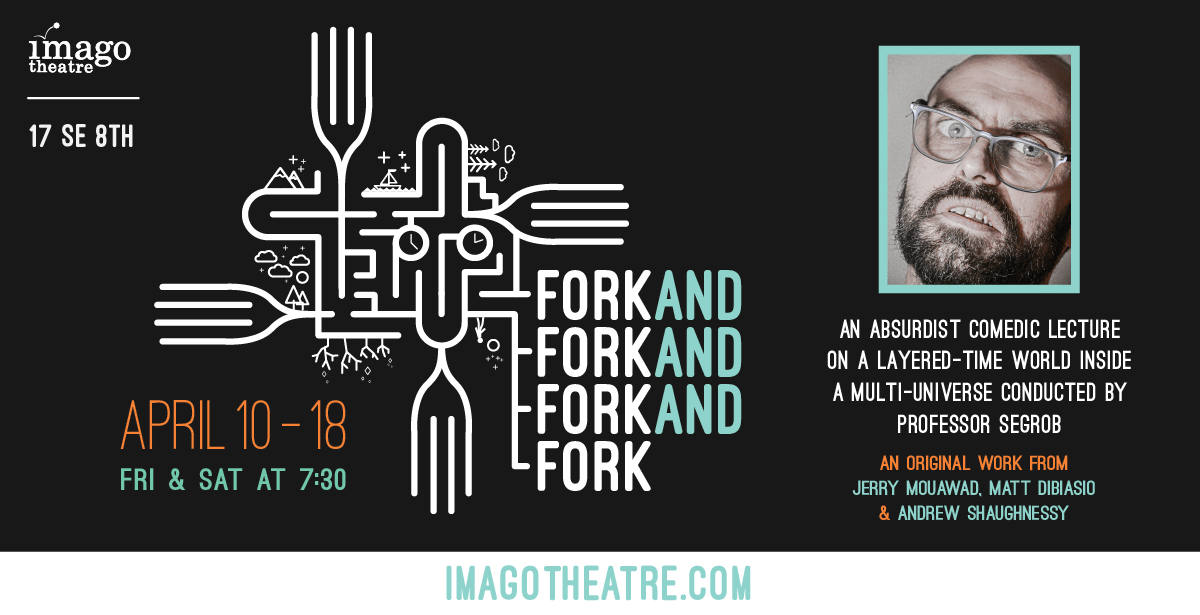 FORK AND FORK AND FORK AND FORK
FORK AND FORK AND FORK AND FORK
April

10

Friday

@ 7:30PM

7:30 PM

Imago Theatre - Portland, OR

April

11

Saturday

@ 7:30PM

7:30 PM

Imago Theatre - Portland, OR

April

17

Friday

@ 7:30PM

7:30 PM

Imago Theatre - Portland, OR

April

18

Saturday

@ 7:30PM

7:30 PM

Imago Theatre - Portland, OR
Event Information
On April 10, Imago Theatre premieres its second production in the company's 2020 Next Wave Festival - FORK AND FORK AND FORK AND FORK, an absurdist comedic magical realist lecture on a layered-time world inside a multi-universe universe, given by the esteemed Professor Segrob ("Borges" backwards). Written by Matt DiBiasio (Professor Segrob) and director Jerry Mouawad. Performed by Matt DiBiasio and guest artists (with "Juice" the dog). Sound design and media by Kyle Delamarter.
Mouawad directs DiBiasio in a zany, wacky lecture based on the work of Jorge Luis Borges. Mouawad stages a universe that is filled with logic and lack of logic, allowing DiBiasio to float, fall and fly. Written by both the director and actor, FORK AND FORK AND FORK AND FORK is sure to entertain the intellectual, those that want to be intellectual, and those that don't.
Professor Segrob gives a circular lecture at a bare table with blank notes, turning on and off a film projector that plays an imageless movie while he tries to write on a blackboard with chalk that makes no marks. His lecture meanders on, in and about the labyrinthian writings of Jorge Luis Borges. Yet, whenever the professor begins down one path, he is forever and endlessly taken down another fork, in an infinitely miserable, tortuous, crooked metaphysical journey. Professor Segrob is confronted by a fascist theatre troupe demanding control of Imago Theatre. Segrob keeps the fascists at bay as he begs the writers of the lecture, Matt DiBiasio and Jerry Mouawad, who sit in the house (DiBiasio's twin and Mouawad as himself): "Please complete the flawed lecture so the show and I can find relief from this misery without end!" Ultimately, a mysterious dog enters ("Juice," a real dog), bites on an electrical cord, and gets electrocuted (no animals are injured). This kills "Juice," but completes a blackout to end the professor's pain. FORK AND FORK AND FORK AND FORK is Imago's second of three shows in its 2020 NEXT WAVE FESTIVAL
For mature audiences. Includes brash language and sexual references.
Next Wave Festival 2020 - A Three Show Package

Imago Theatre Presents
NEXT WAVE FESTIVAL 2020
A Three Show Package

Get 1 ticket to all three below shows for just $30

- SPECIAL K
- FORK AND FORK AND FORK AND FORK
- HAPPY TIMES

To purchase the combo, click here