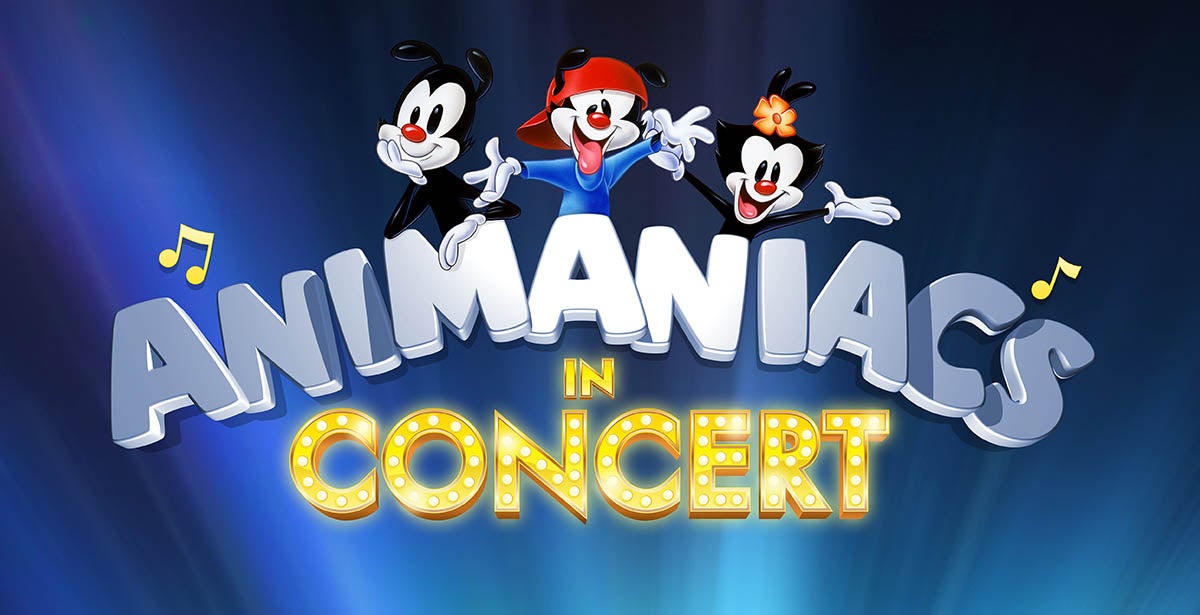 Animaniacs in Concert
Animaniacs in Concert
Event Information
STARRING RANDY ROGEL AND ROB PAULSEN
Portland'5 presents Animaniacs in Concert with Randy Rogel and Rob Paulsen at the Newmark Theatre on Saturday, January 12, 2019 at 7:30pm.
VIP TICKETS AVAILABLE!
Add your VIP experience when purchasing tickets to get to meet Rob Paulsen and Randy Rogel after the show. You'll have a chance to take a photo with the artists, and will receive a signed poster from the performance.
Randy Rogel, Music and Lyrics
Randy has won three Emmy Awards (nominated for ten), a Peabody Award, two Annie Awards, three Leo Awards, and the Ovation Award. He recently co-wrote the hit song Poisonous Love for Kristen Chenoweth with John Powell for the major motion picture Rio 2. He was show-runner for the animated series 1001 Nights and won Leo Awards for Writing and Best Animated Series. At Disney, Randy wrote songs and scripts for the animated movies Peter Pan- Return to Neverland, Cinderella II, Cinderella III, Winnie the Pooh, Around the World in Eighty Days, The Three Musketeers, and 101 Dalmations II. Randy spent nine years on staff at Warner Bros. Animation where he began as an original writer on the Batman series and then joined the staff of Steven Speilberg's Animaniacs, for which he wrote most of the songs and many of the scripts. Randy is a west Point graduate with ten years service as an officer in the combat arms. He has a B.S. in Engineering from the academy and a Masters Degree in International Relations from Boston University.
Rob Paulsen, Voice Actor
Born in Detroit, Rob Paulsen spent his childhood in Livonia and Rochester, attending junior and senior high school in Grand Blanc, Michigan. Rob loved cartoons like most kids but aspired to be a professional hockey player. "Fortunately, thanks to some big, strong kid from Winnipeg who drilled me so hard my ears are still ringing, I learned around the age of 18 I had neither the talent nor the temperament to make a living playing hockey. So, I turned to my other passions: singing and acting." The goal of bringing absolute believability to a character, live-action or animated, is what every actor strives for. Those who are commited to their career and who combine experience, passion and skill are likely to succeed. With over 2,000 half-hours of animation credits, Rob's versatility shines in his starring roles as the voices of Donatello (Nickelodeon's Teenage Mutant Ninja Turtles), Yakko Warner, Pinky and Dr. Scratch'n'Sniff in the Peabody and two-time Emmy Award-winning series Animaniacs. Rob himself has been nominated for three Emmys with one win, and six Annies with three wins. As passionate about "paying it forward" as he is about his lucrative career, Rob supports various charities, particularly those benefitting children and military veterans. In his leisure time, Rob enjoys golf, cruising the PCH, and occasionally lacing up his skates for another chance to relive his past glory on the rink. He spends the majority of his free time with his wife, Parrish, and their Yorkshire terriers, Pooshie and Tala. "Laughter's the best medicine: the cool thing is, you can't OD and the refills are free."
Animaniacs and all related characters and elements are trademarks of and © Warner Bros. Entertainment inc.
VIP Meet and Greet

The VIP Meet and Greet includes a private reception with Mr. Paulsen and Mr. Rogel.